Diese Veranstaltung hat bereits stattgefunden.
Berlin Dance Music Event
Mai 26
@
22:00
–
Mai 27
@
7:00
Amsterdam Techno Records is coming to Berlin (again!)
Where: Aseven, Berlin (near Alexanderplatz)
When: 26 May starting at 22:00h
Tickets: € 15 p.p. (online)
Age: 18+
To many of us, techno has become more than just a music genre, it has become a platform enabling us to meet people from different backgrounds, but with one thing in common: TECHNO. A lot of people describe the techno scene as a safe place where one can express him/herself without fear of being judged. It is the power of the music that brings us together.
What to expect:
Amsterdam Techno Records is coming to Berlin for a massive party in Club Aseven near Alexanderplatz. We like techno and you will get TECHNO!
During our parties many likeminded ravers, DJ's, Producers and all other TECHNO enthusiasts are there to meet each other and party in a great atmosphere.
ASeven is known by their awesome led visuals throughout the whole club as also their pounding sound system. Check it out!
See you on 26 May in Aseven at 22:00h during Berlin Dance Music Event!
Socials:
Follow our event on FB via: https://fb.me/e/2csn4tepp
Follow our event on Resident Advisor via: https://www.residentadvisor.net/events/1627484
More info on our Socials: https://www.instagram.com/amsterdamtechnorecords/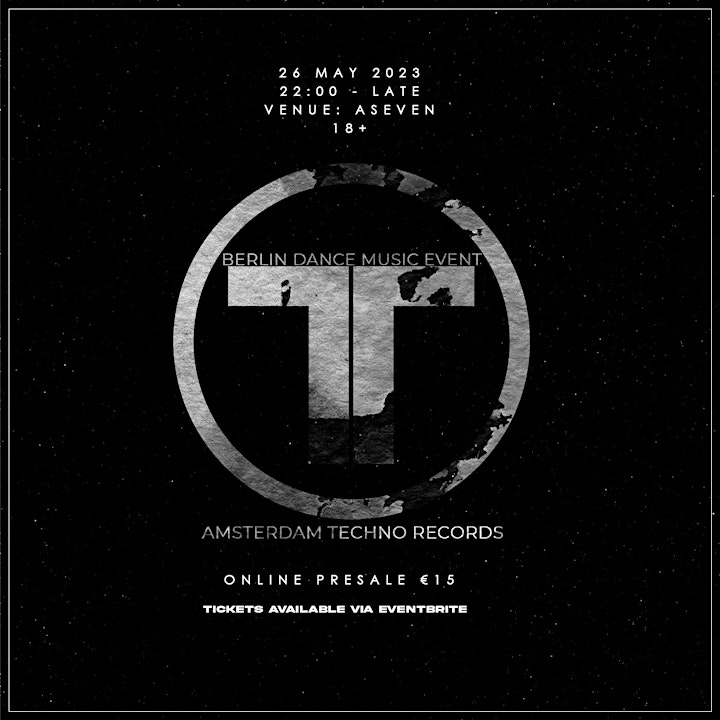 Ähnliche Veranstaltungen